HOW TO CREATE AN ART WALL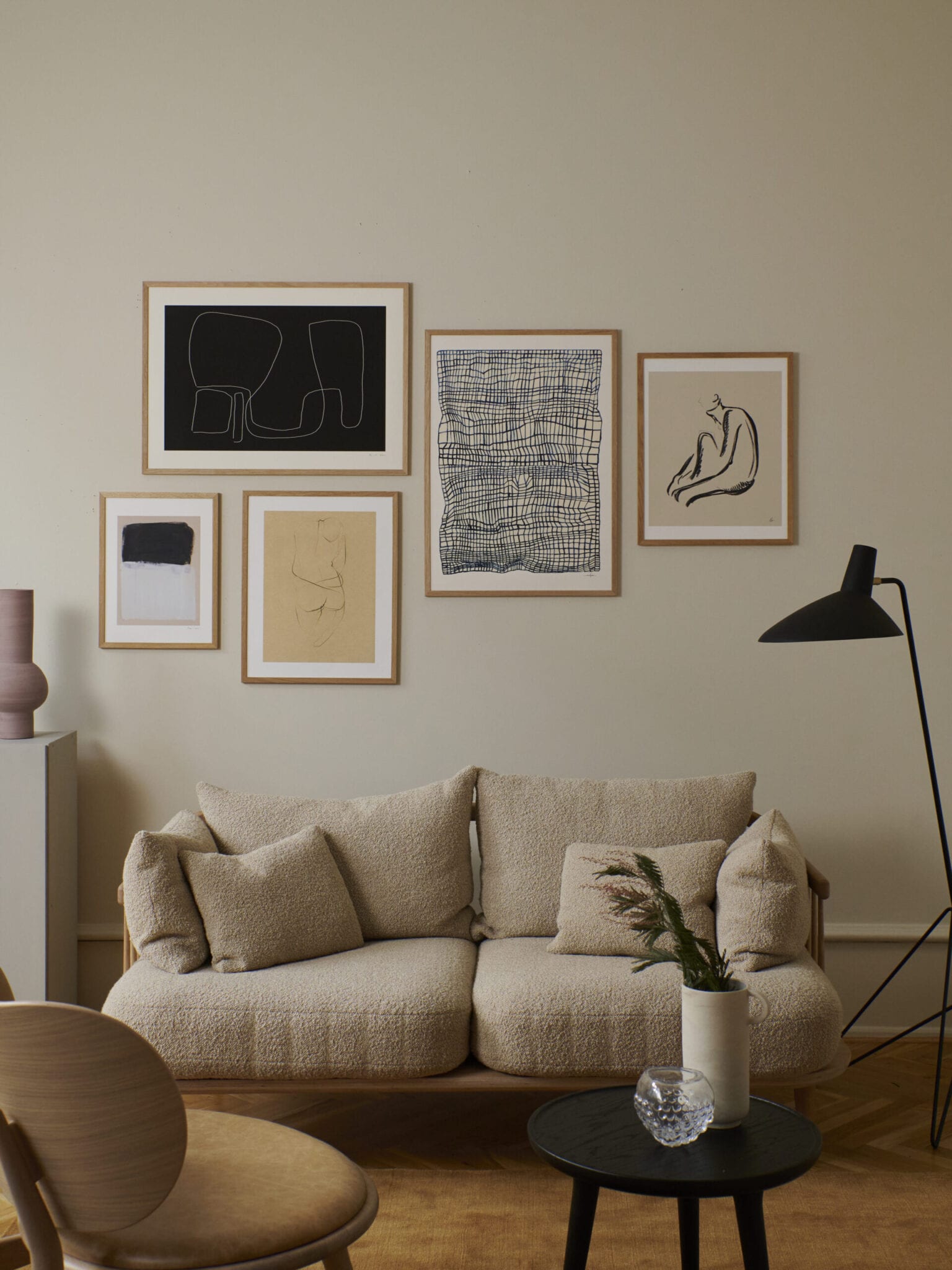 How to create a gallery wall – a display of multiple framed artworks – isn't as hard and intimidating as one might think. All you need is the proper preparation, tools and imagination.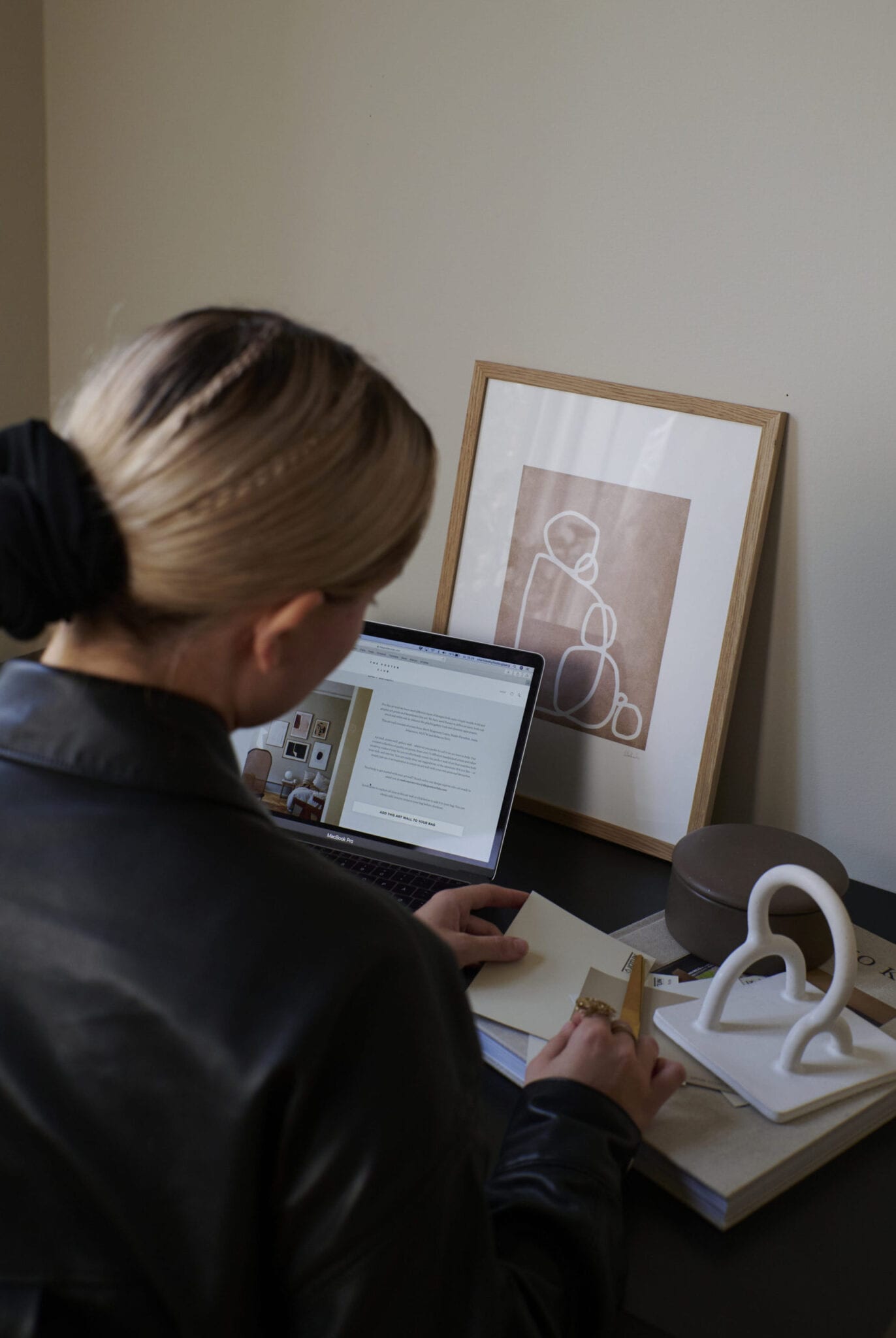 An art wall can be designed to fit into almost any space of the home, from lining the wall leading up the stairs, the bathroom, the living and dining spaces or even your bedroom. But it's not just about putting your favourite pictures up next to each other; there's an art to curating a gallery wall that works cohesively as one visual piece, with each work contributing to the final aesthetic. From choosing the art and frames to how to hang it and where – there are a few things to consider before you start hammering.
But don't worry, we have you covered, with our step by step guide of: how to create an art wall.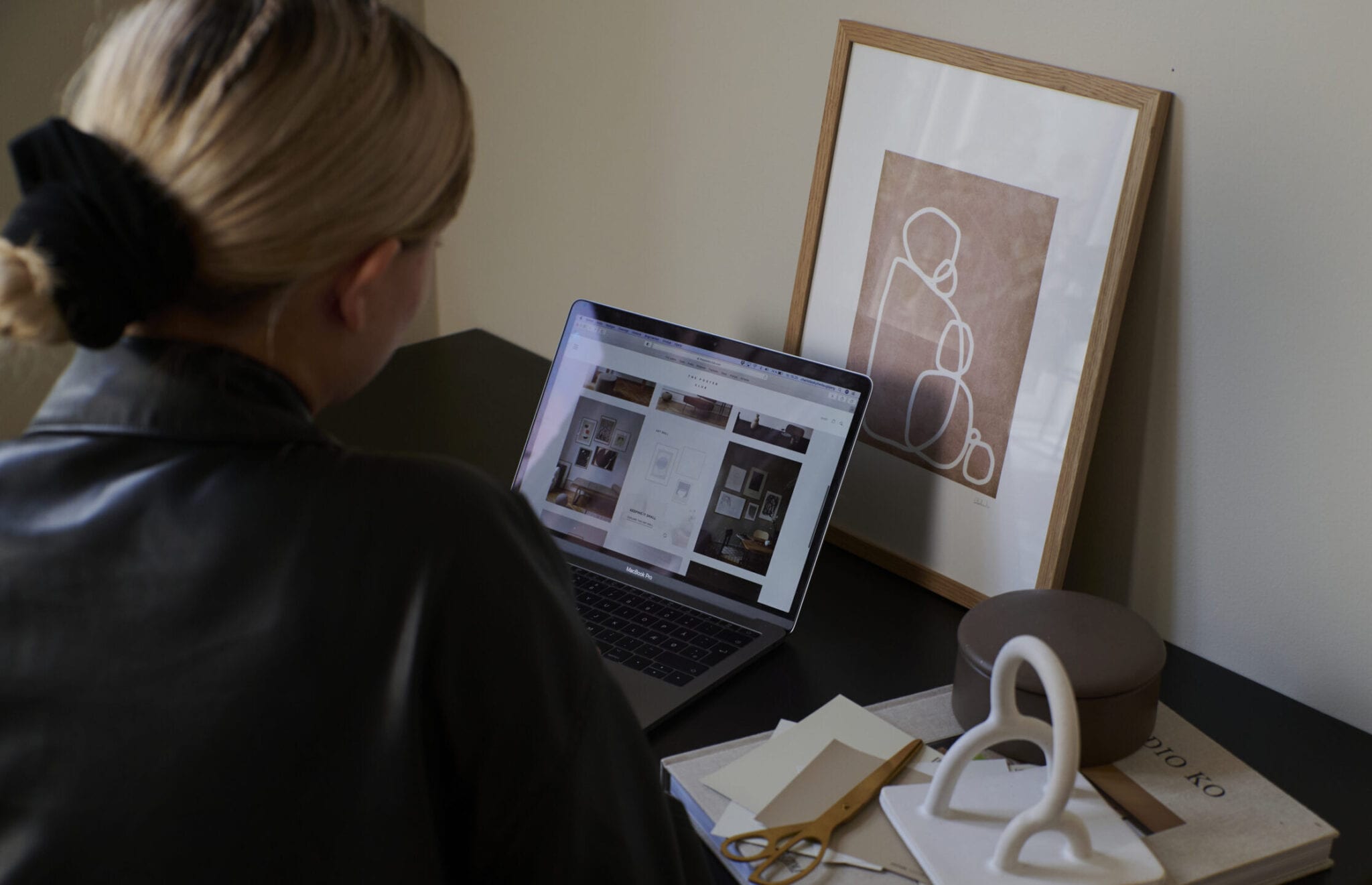 THERE ARE SIX MAIN STEPS IN TOTAL:
1 — RESEARCH RESEARCH RESEARCH
2 — MEASURING & SIZING UP

3 — FINALISING YOUR DESIGN AND DECIDING ON THE 'FINAL CUT'

4 — PURCHASING YOUR CHOSEN ART PRINTS AND MATCHING FRAMES

5 — ARRANGE GALLERY DESIGN ON THE WALL

6 — HANG UP YOUR READY ASSEMBLED ART PRINTS IN FRAMES
ET VOILÀ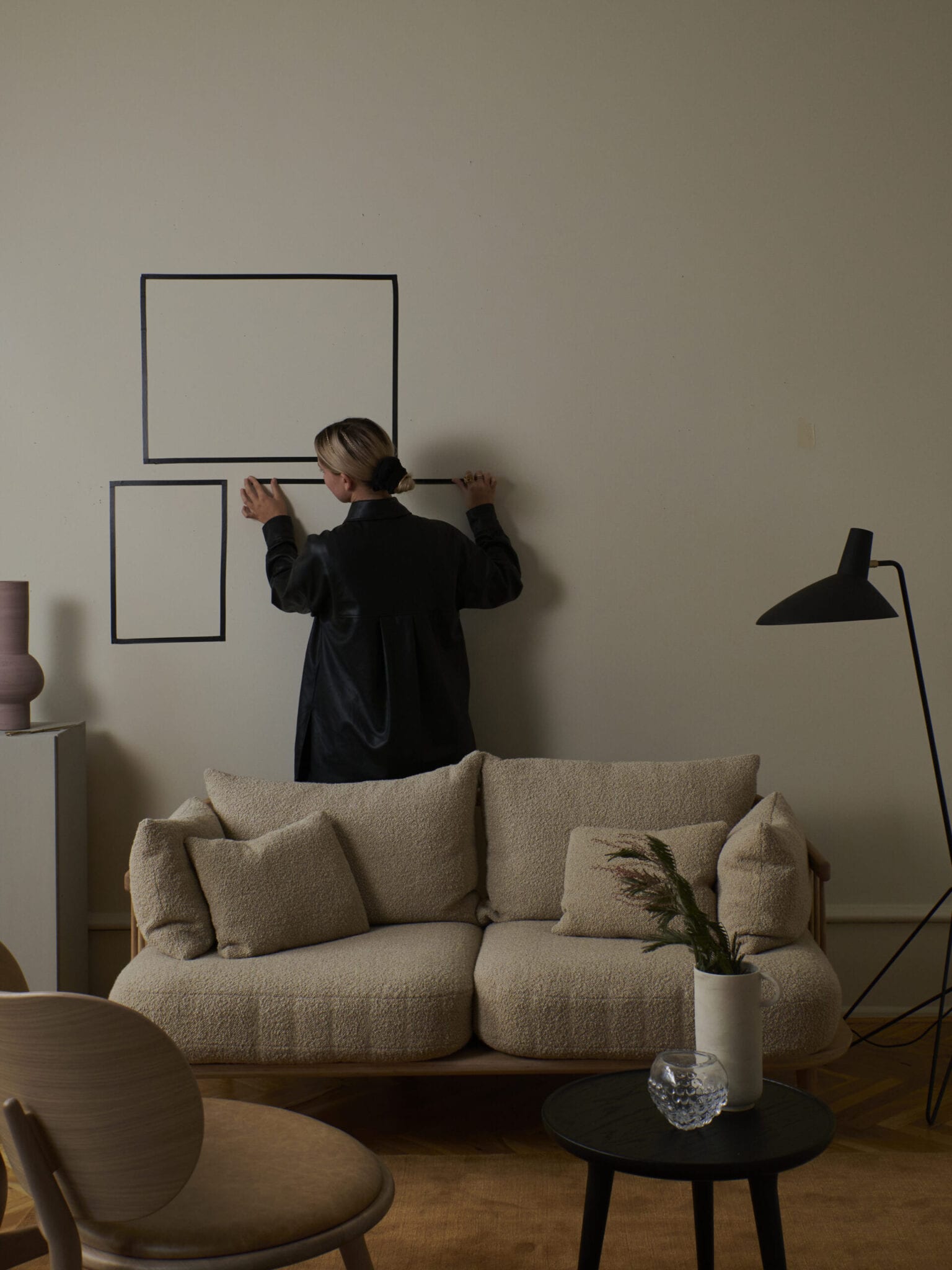 STEP ONE: RESEARCH, RESEARCH, RESEARCH
The first, and most vital step of creating an art wall. Like the saying goes "If you fail to plan, you plan to fail." Planning is probably the most important part of creating a gallery wall, and if you haven't done your research, collected enough inspiration, played around and decided on a final layout — then your art wall will most likely end up looking nothing like what you wanted it to. 
When deciding to create an art wall, you should firstly start by brainstorming ideas, considering different colour palettes and overriding themes, then collect visual inspiration. Putting together a visual moodboard can be extremely helpful to your planning process. We are big fans of using Instagram as a creative and inspirational platform, both for ourselves, when coming up with new stylings and to inspire others. Pinterest is another great platform to source visual content for your moodboards.
We recommend anyone who hasn't tested themselves with creating an art wall before, to milk the internet dry of inspiration and spark their creativity. Themes come in many different shapes and sizes, but having some kind of red thread running through an art wall, makes the entirety of it stand out much more elegantly.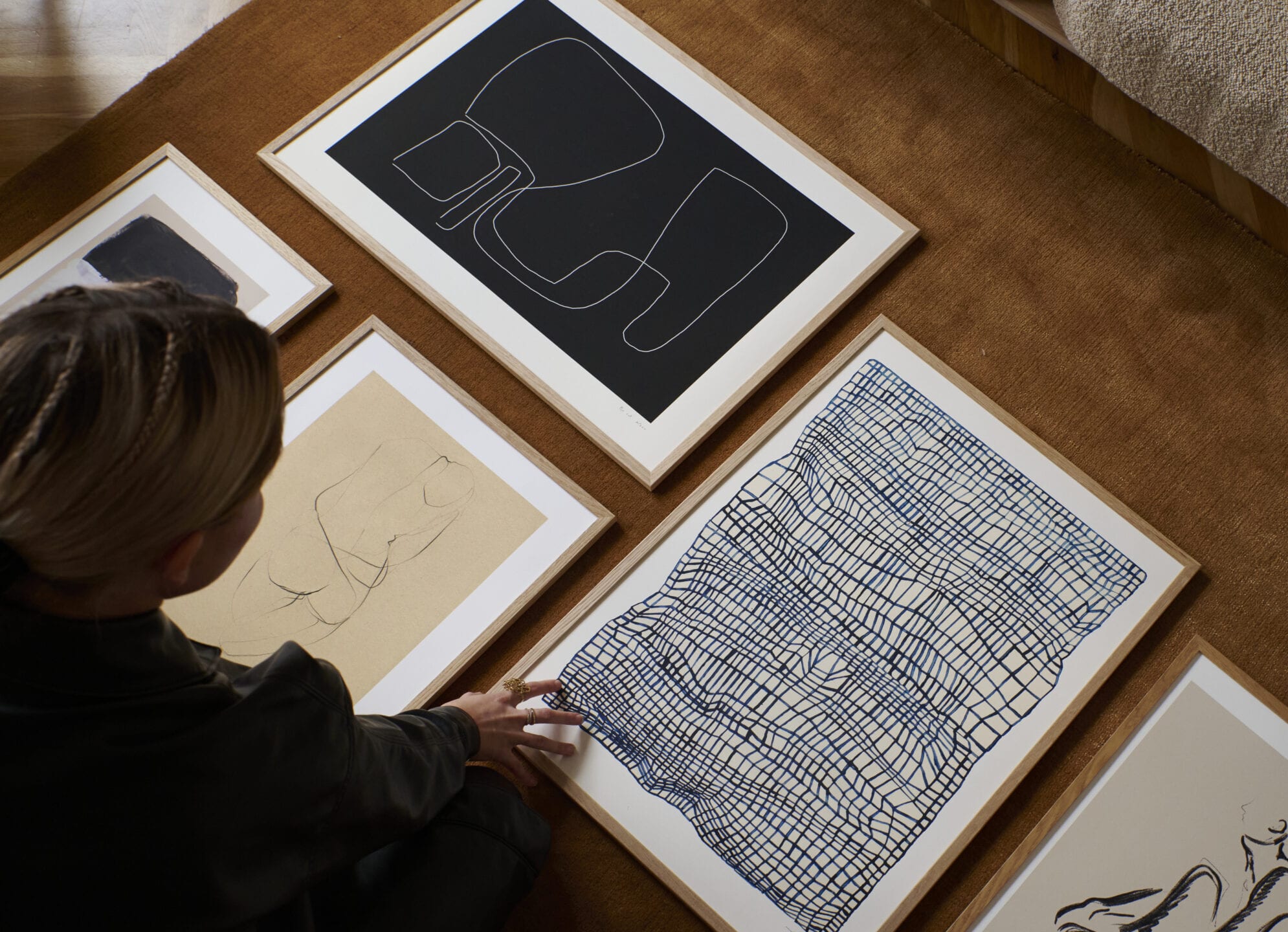 STEP TWO: MEASURING & SIZING UP
Knowing the size of your wall is a good place to start. It is crucial to measure out how much space you want your art wall to take up, before buying your pieces. You can help get a better visual understanding by applying 'empty frames' with paint tape on the wall. Then simply use a pen, eraser and paper or relevant program on your computer to easily create layout sketches. Simply draw squares (in correct proportions) and play around with them until you are happy with the result. Now you can start shopping for prints in the sizes you need and consider framing options.  
Once you've collected your inspiration, measured out the space you want to cover on your walls and decided on how many art prints and artworks you want to include, measuring up how much space needs to be in-between is the next step. Start by laying them down on the floor in front of you, to easily move around your art wall puzzle, until you have the perfect layout. Remember to take a photo of it for reference. The process of transferring your "floor layout" to the wall is quite straightforward. You just need a good pocket ruler, a spirit level and patience.
Rome wasn't built in one day.
How far apart your new pictures in frames should be hung, comes down to personal taste, space on the wall and number of prints… but we would recommend anywhere between 3 – 10 cm to ensure the overall look is pleasing to the eye.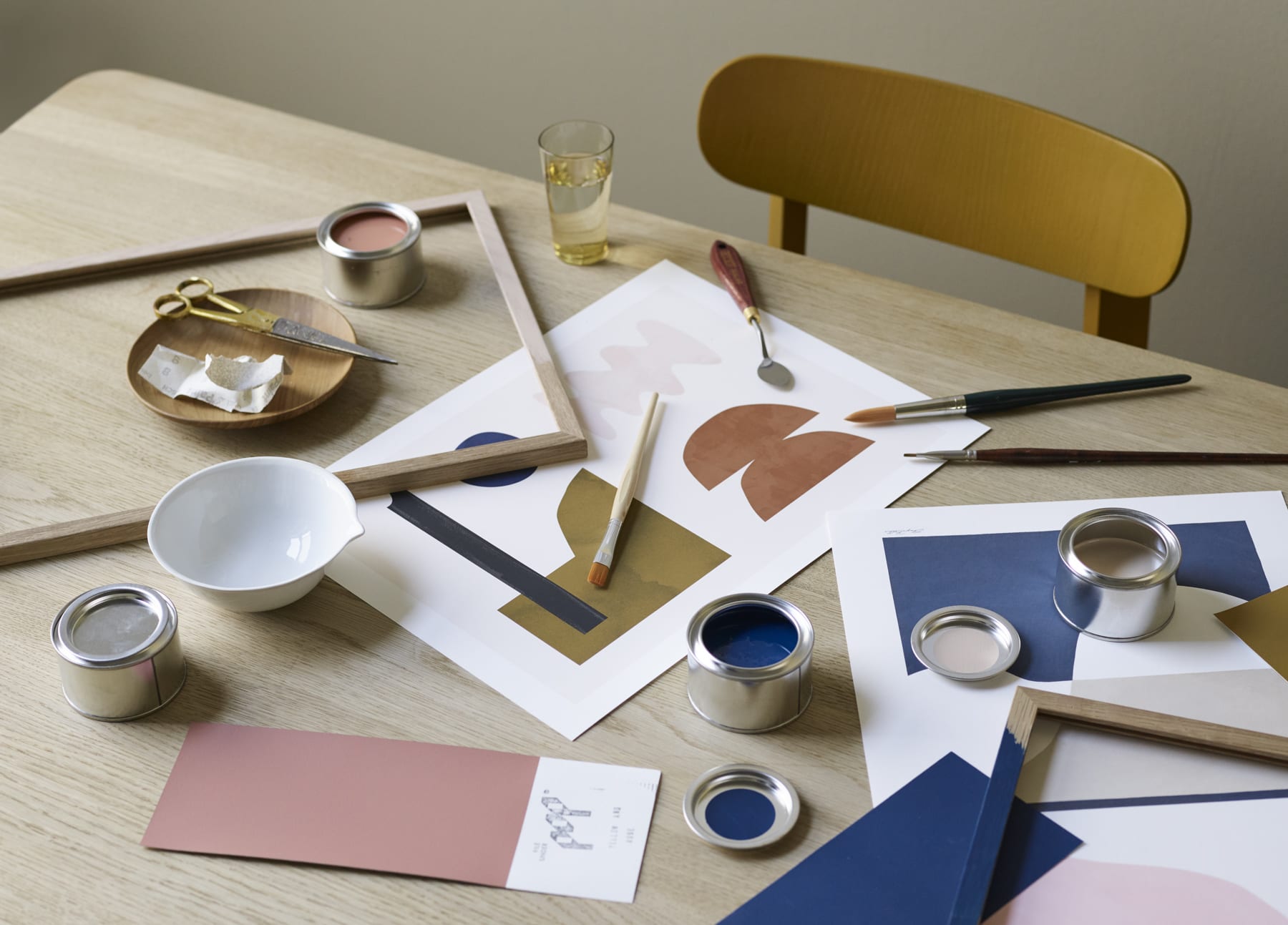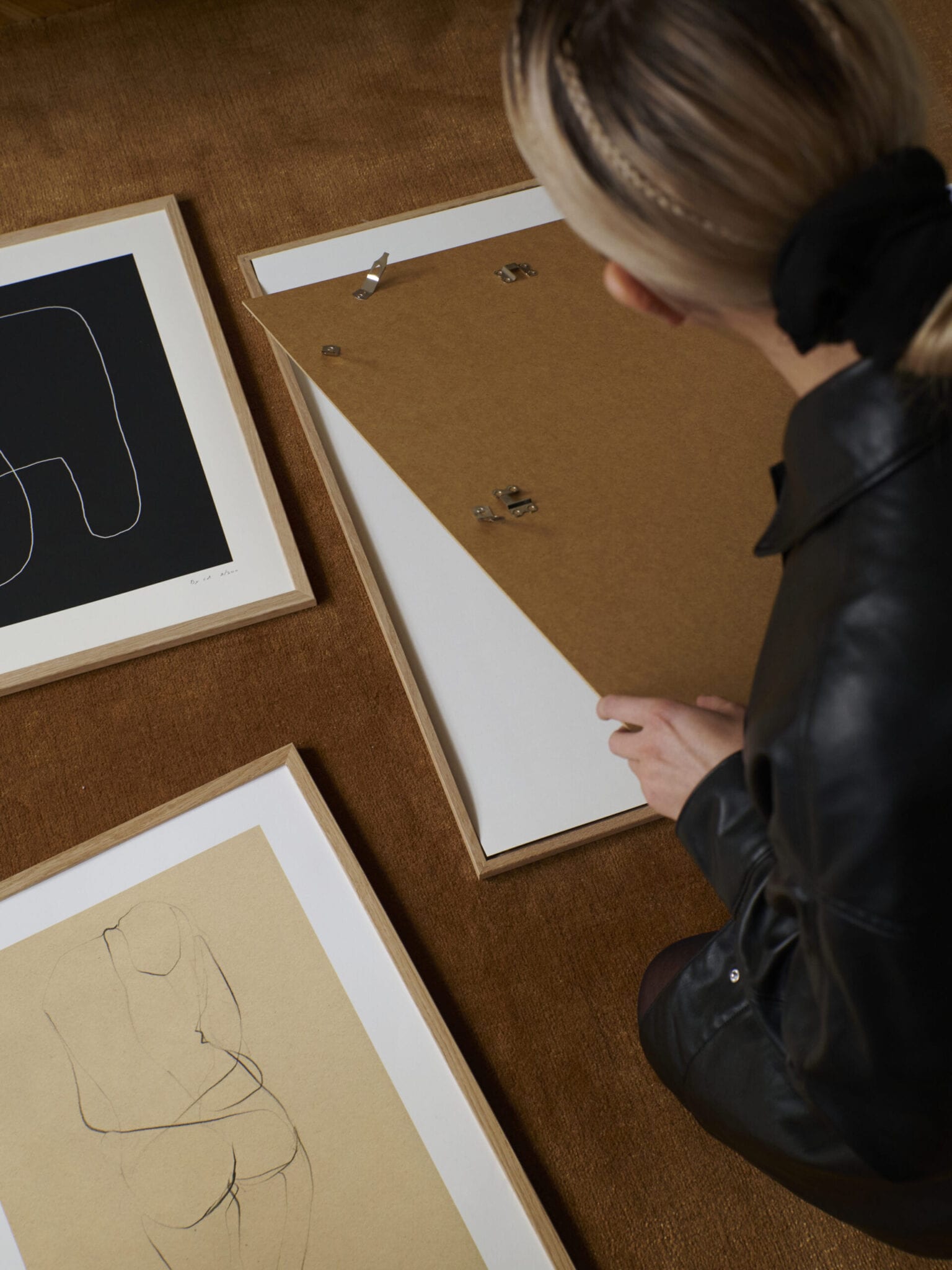 STEP THREE: FINALISING YOUR DESIGN AND DECIDING ON THE FINAL CUT
You can easily create a "smaller" version of your end goal, and start your art wall with four or five pieces of art, with the intention of adding to it slowly as you find pieces you love. There is also no rules against changing your mind, rearranging and swapping out certain pieces in your collection. In fact, this only prolongs the lifetime of your art prints or artworks, breathing new life into them by giving them a fresh styling and a new viewing point. It is however, still a good idea to have a final design ready for your first go at making the art wall of your dreams.
When looking at which frames you want for your final design, mixing and matching different textures is not necessarily a bad idea. Of course, this comes down to personal taste and the look that you are going for, but the team here at THE POSTER CLUB love the look of a thought-out art wall with different tones of wood or painted frames. 
If you're into the painted frame look, or just feel like being creative, THE POSTER CLUB offers a range of beautiful paint colours for your frames. The Frame Paint makes it possible to creatively renew old frames and transform both the expression of an artwork and to update an interior setting with just a few brush strokes.
The Frame Paint is a water-borne oil paint especially made for use on all types of wooden frames. The paint is easy to apply and the semi-gloss finish provides an even, strong and smooth surface with a sophisticated appearance, created in collaboration with File Under Pop.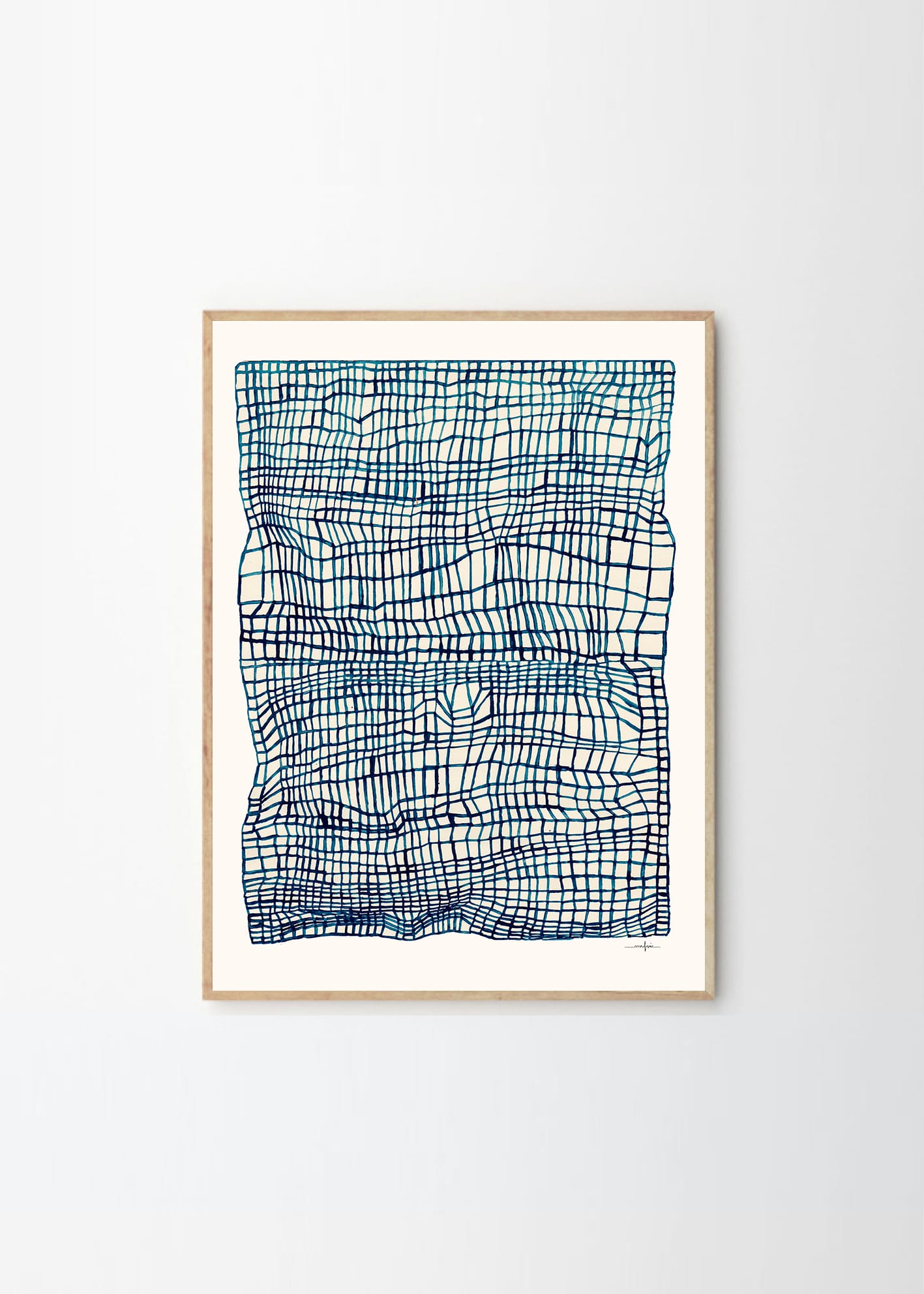 Ana Frois - Sketchbook
STEP FOUR: PURCHASING YOUR CHOSEN ART PRINTS AND MATCHING FRAMES

 
When it comes to purchasing your chosen art prints and matching frames, it's as easy as one, two, three… Just add your prints to your basket, in the size that you have decided on, and choose your frames in the same size accordingly. All art prints in THE POSTER CLUB Collection come in our standard sizes of: A4, A3, A2, 30x40cm, 40x50cm, 50x50cm, 50x70cm & 70x100cm — and like these, our frames come in the perfect sizes to match. THE POSTER CLUB also offers free framing if you buy one of our solid oak wood frames with your chosen art print, which makes it that much easier when it comes to assembling your final art wall.
Don't neglect the frame when thinking about your focal piece of artwork, especially in the living room; always consider that the art will serve as a wall anchor. Whether you go modern with monochromatic frames or you mix and match different vintage-style frames and picture hangers, your framing can bring just as much style and personality to a space as the artwork itself.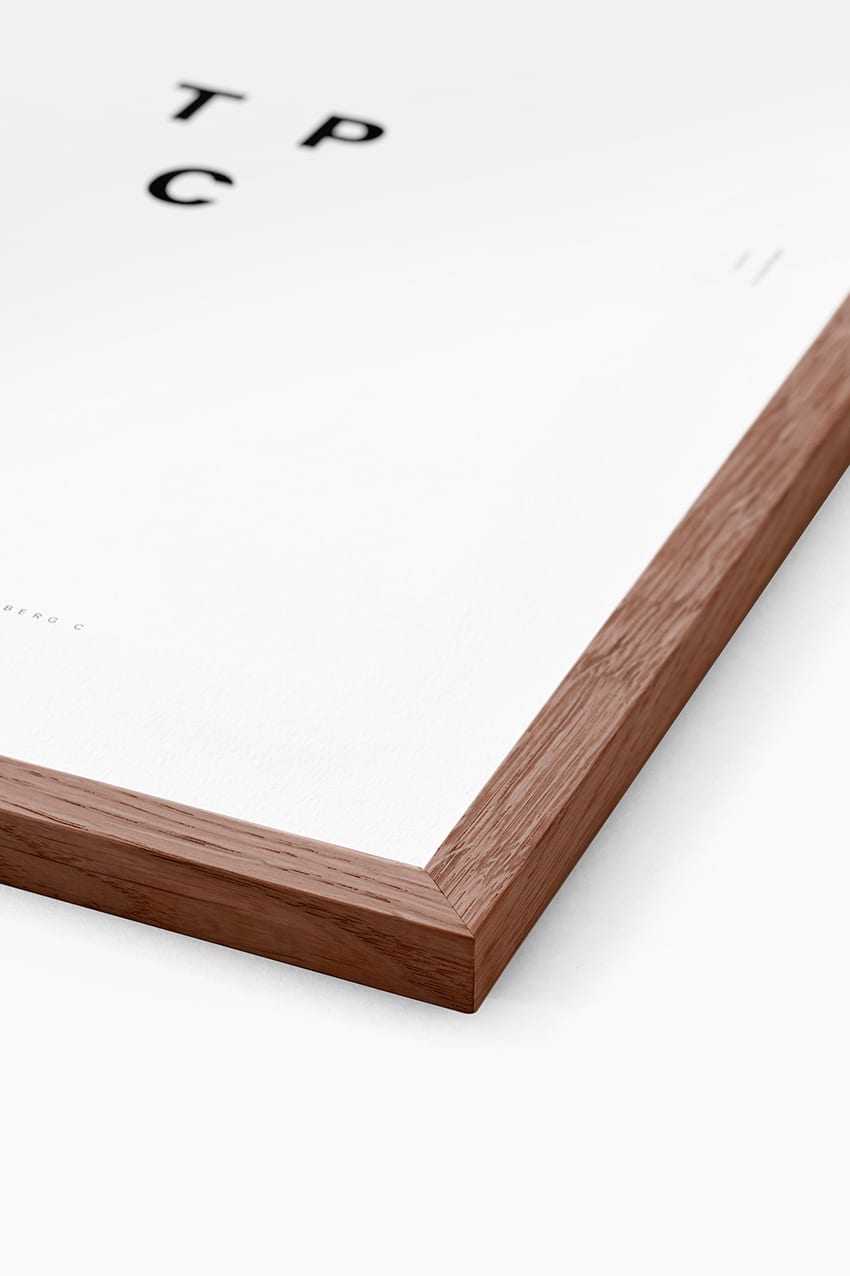 Oak Wood Frames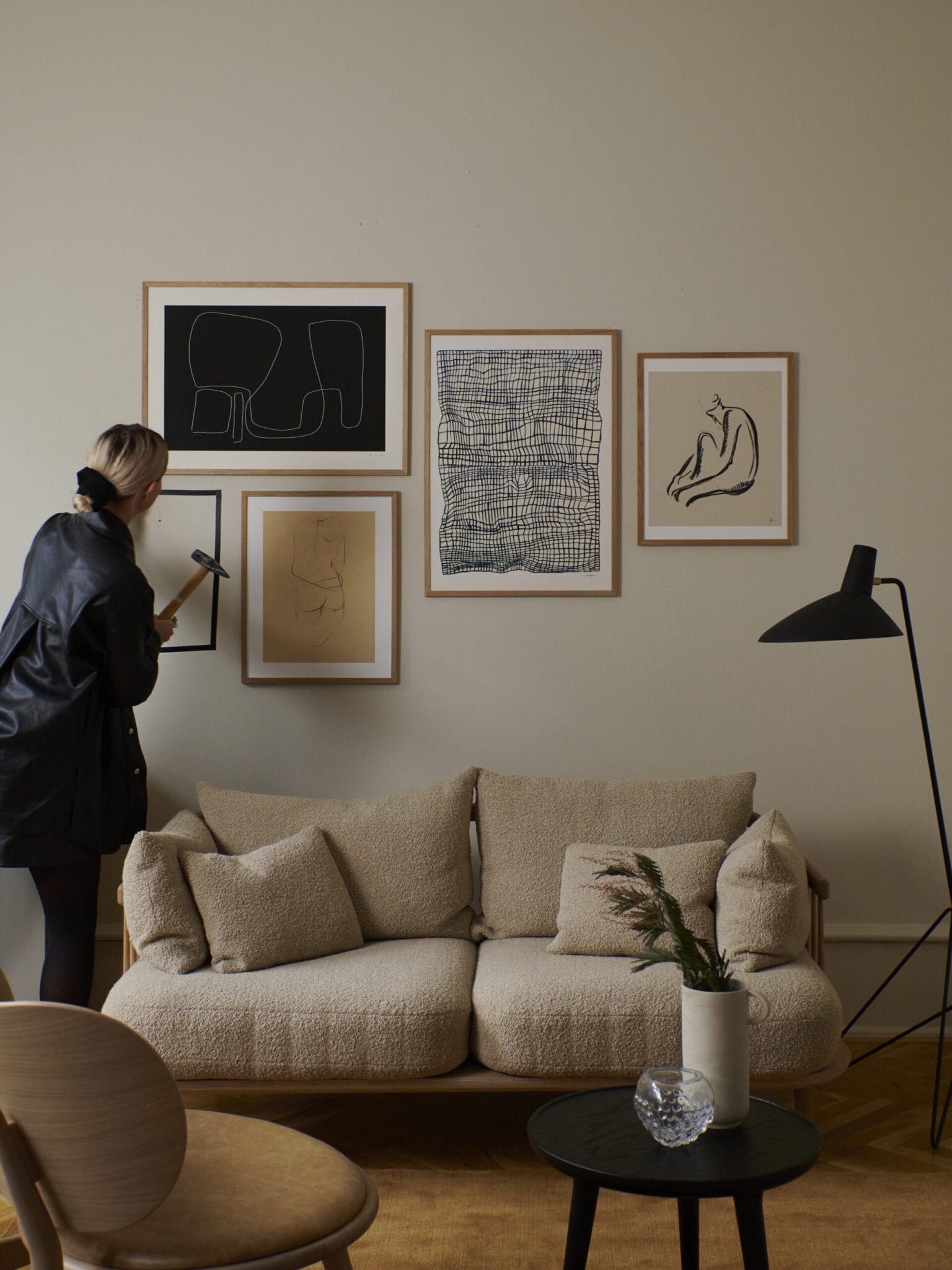 STEP FIVE: ARRANGE GALLERY DESIGN ON THE WALL
Most people have the tendency to hang artwork too high. The center of your art piece (not the hook, but the middle of your entire art wall) should be approximately 1,5m. from the floor. This standard represents the average human eye-height and is regularly used as a standard in many galleries and museums. It also creates balance in the home because all of your art will share a visual midline.
There are a few exceptions to this rule: If you have really low ceilings, divide the vertical length of your wall into quarters and hang your art in the third quadrant up from the floor. — & of course if you're working with super tall ceilings, going a little above the standard height can be beneficial to the aura of your space. 
If you're working with a collection of art, it's important to treat that collection or gallery as one piece to achieve a balanced look. Make sure your collection is neither too large nor too small in relation to your room. You want it to be just right.
Insider tip: Use low adhesive tape to keep spacing consistent between frames. And if all of this seems overwhelming, don't be scared! We can help you create your perfect gallery wall, just get in touch with us at: info@theposterclub.com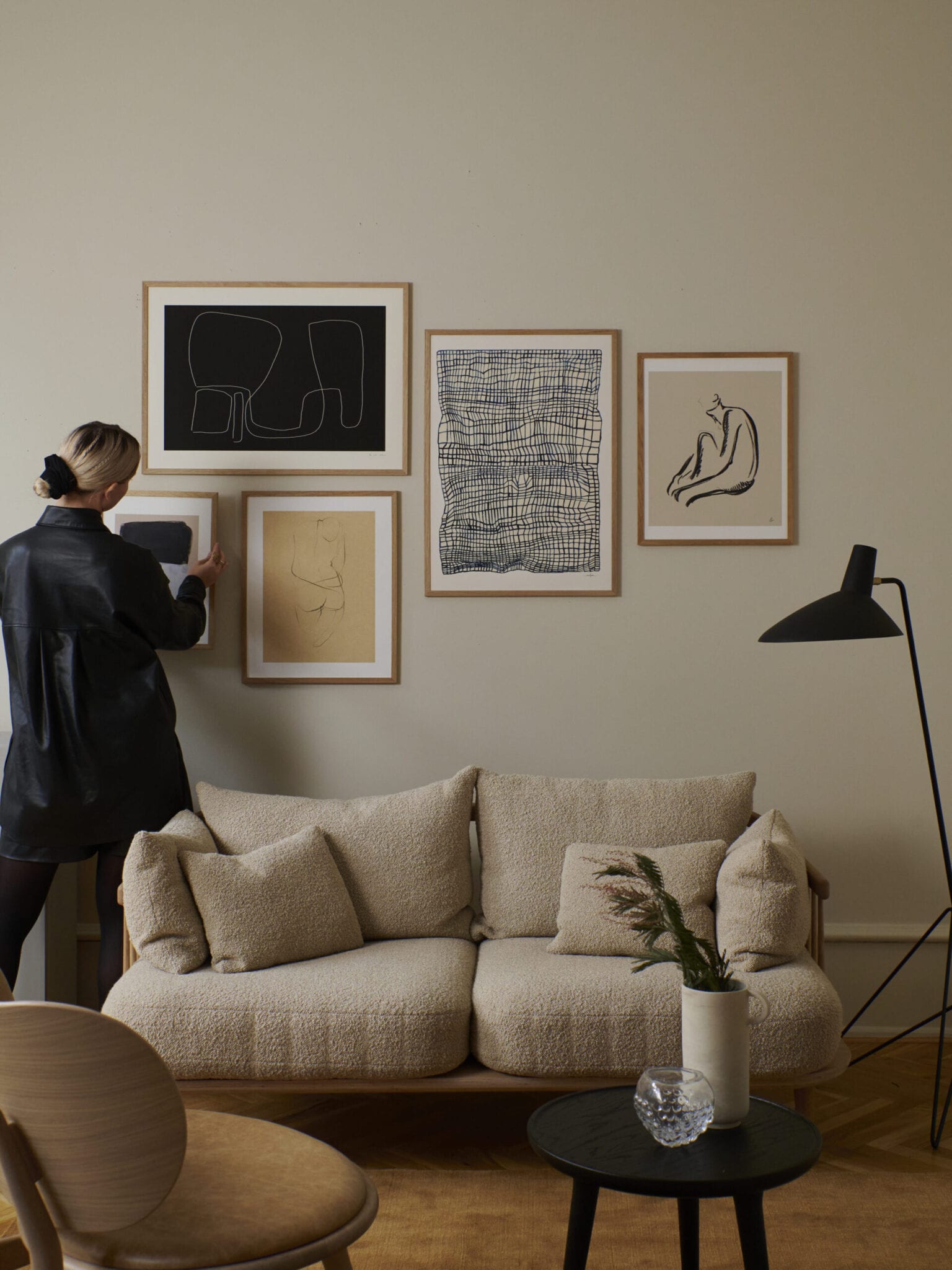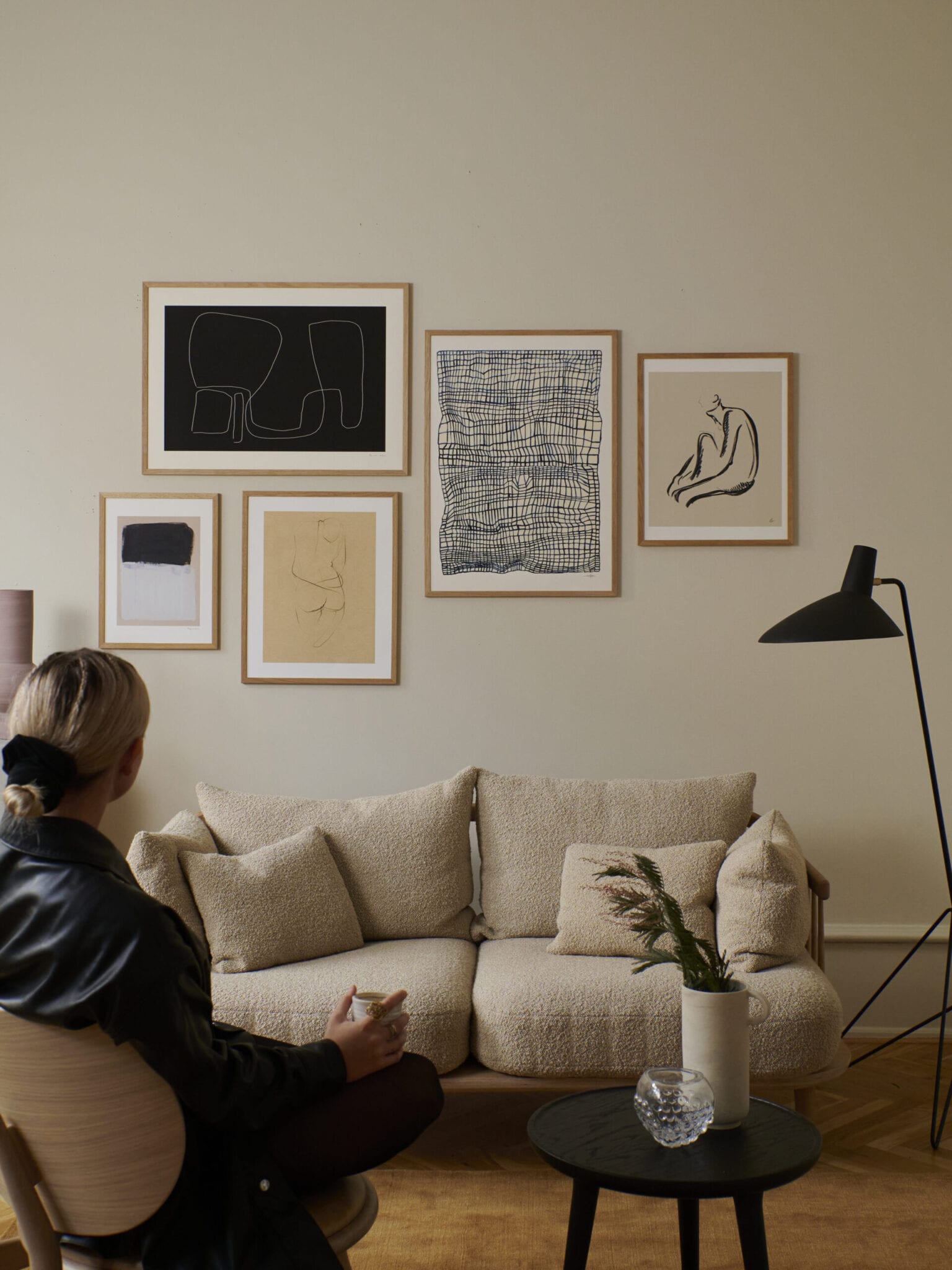 STEP SIX: HANG UP YOUR READY ASSEMBLED ART PRINTS IN FRAMES
Now all there is left to do, is hang up your well planned, perfectly measured, accurately designed and beautifully matched art wall in your chosen space of your home, and enjoy. 
ET VOILÃ